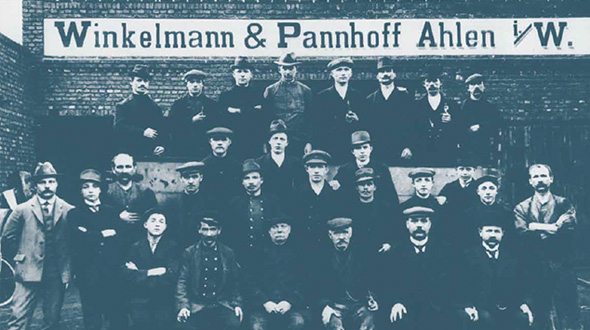 More than one hundred years ago, Heinrich Winkelmann and Caspar Pannhoff founded an independent workshop producing goods for the enamel industry. The business grew rapidly over the years to become a highly advanced SME, which is still today headquartered in the town of Ahlen in Westphalia.
Winkelmann + Pannhoff GmbH Umformtechnik always operated unostentatiously and diversified by founding manageable, sales-oriented subsidiaries. During the expansion phase in particular, the founders were careful to ensure that production efficiency, research and development in the relevant product segment and technical perfection in the production process always remained a key focus. The young company was not satisfied with simply mastering and consolidating existing knowledge acquired from elsewhere, but was keen to face up to the challenge posed by and keep pace with the rapid growth in knowledge. The company's success has more than justified the approach taken by the founders and their successors.
For this family business, staff welfare and workplace safety were important considerations. The commitment and loyalty of our employees was and remains of fundamental importance in meeting past and future business challenges. Our company philosophy has always been to treat our suppliers and business partners fairly and to show them loyalty, and that remains just as true today.